Podczas konferencji z okazji 20-lecia marki Xbox Microsoft poinformował, że ponad 70 nowych gier na Xboxa zadziała teraz we wstecznej kompatybilności. Ponadto firma zdradziła, że niemal 40 pozycji dostało też wsparcie dla funkcji FPS Boost. Jak zawsze przybywamy z konkretami, więc oba zestawienia można znaleźć w dalszej części niniejszego tekstu.
Nowe gry na Xboxa we wstecznej kompatybilności oraz ze wsparciem dla FPS Boost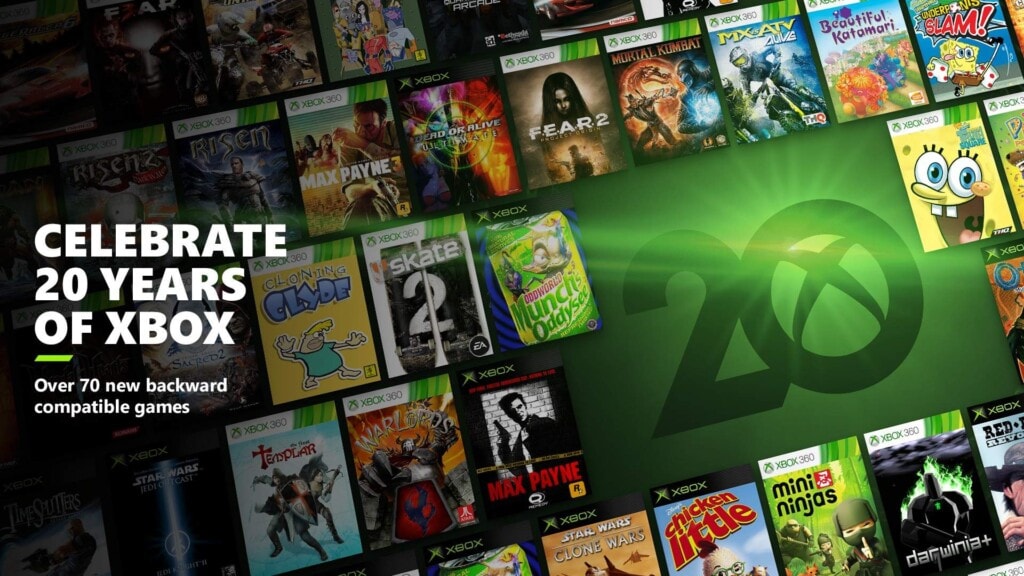 Xbox właśnie tchnął nowe życie w wiele hitów sprzed lat. Przechodząc do sedna, od dzisiaj w ramach wstecznej kompatybilności użytkownicy Xboxów One oraz konsol nowej generacji (Xbox Series X|S) odpalą poniższe gry:
50 Cent: Blood on the Sand
Aces of the Galaxy
Advent Rising
Adventure Time: The Secret of the Nameless Kingdom
Are You Smarter Than a 5th Grader? Make the Grade
Avatar: The Last Airbender – The Burning Earth
Bankshot Billiards 2
Beautiful Katamari
Binary Domain
Black College Football Xperience: Doug Williams Ed
Cloning Clyde
Conan
Darwinia+
Dead or Alive Ultimate
Dead or Alive 3
Dead or Alive 4
Death by Cube
Disney Universe
Disney's Chicken Little
Elements of Destruction
F.E.A.R.
F.E.A.R. 2: Project Origin
F.E.A.R. 3
F.E.A.R. Files
The First Templar
Gladius
Gunvalkyrie
Islands of Wakfu
Lego The Lord of the Rings
Manhunt
Max Payne
Max Payne 2: The Fall of Max Payne
Max Payne 3
Mini Ninjas
Mortal Kombat
Mortal Kombat vs. DC Universe
MX vs. ATV Alive
MX vs. ATV Untamed
NIER
Novadrome
Oddworld: Munch's Oddysee
Onechanbara: Bikini Samurai Squad
Otogi: Myth of Demons
Otogi 2: Immortal Warriors
The Outfit
Outpost Kaloki X
Quake Arena Arcade
R.A.W. – Realms of Ancient War
Red Dead Revolver
Resident Evil: Operation Raccoon City
Ridge Racer 6
Rio
Risen
Risen 2: Dark Waters
Rock of Ages
Sacred 2: Fallen Angel
Scramble
Screwjumper!
Secret Weapons Over Normandy
Skate 2
SpongeBob SquarePants Underpants Slam!
SpongeBob's Truth or Square
Star Wars Starfighter: Special Edition
Star Wars: Episode III Revenge of the Sith
Star Wars: The Clone Wars
Star Wars Jedi Knight II: Jedi Outcast
Switchball
Thrillville
Thrillville: Off the Rails
Time Pilot
TimeSplitters 2
TimeSplitters: Future Perfect
Toy Story Mania!
Vandal Hearts: Flames of Judgment
Viva Piñata: Party Animals
Warlords
Nie da się ukryć, że Amerykanie zaskoczyli bardzo pozytywnie; dobrze wiedzieć, że pomimo małej stagnacji Microsoft w dalszym ciągu rozwija swoją inicjatywę. Nowe gry działające we wstecznej kompatybilności mamy już omówione, więc nie marnujmy czasu i skupmy się teraz na produkcjach, które dostały dzisiaj wsparcie dla FPS Boost. Bez przedłużania, ich pełna lista prezentuje się następująco:
Alan Wake
Assassin's Creed
BCFX
Binary Domain
Darksiders
Dead Space 2
Dead Space 3
Disney's Chicken LIttle
Dragon Age II
Dragon Age: Origins
F.E.A.R.
F.E.A.R. 3
Fable Anniversary
Fable III
Fallout 3
Fallout: New Vegas
Far Cry 3
Final Fantasy XIII-2
Gears of War
Gears of War 2
Gears of War 3
Gears of War: Judgment
Gears of War: Ultimate Edition
Kameo: Elements of Power
LEGO The Lord of the Rings
Lightning Returns: Final Fantasy XIII
Medal of Honor: Airborne
Mirror's Edge
NIER
Resident Evil: Operation Raccoon City
Rock of Ages
Sonic & All-Stars Racing Transformed
Sonic Generations
Sonic Unleashed
STAR WARS: The Clone Wars
The Elder Scrolls IV: Oblivion
Vandal Hearts: Flames of Judgment
Wymienione wyżej tytuły uruchomimy w 60 FPS-ach zarówno na Xboxie Series S jak i Xboxie Series X. Niestety żadna z gier nie zadziała w 120 klatkach na sekundę, ale lepszy rydz niż nic. Zadowoleni? Dajcie znać w komentarzach!
Aktualizacja – 16.11.2021, 11:59
Wsparcie dla FPS Boost otrzymały też pierwsze gry działające w chmurze w ramach Xbox Cloud Gaming. Więcej na ten temat można przeczytać w osobnym newsie.